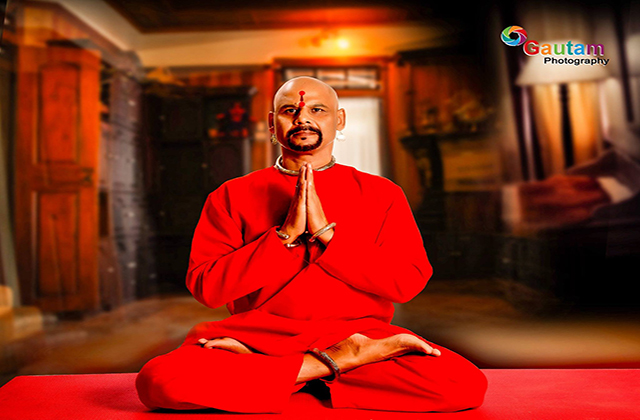 Yoga guru Suneel Singh has been rated as one of the top five yoga gurus of India. Link attachedhttp://www.siliconindia.com/shownews/Top_5_Indian_yoga_gurus_-nid-86403-cid-29.html.
He is one of the first yoga guru in India, who cures his patients by using simple tools like Numerology ,Sign, Hasya Yoga and Yoga-Chi in order to treat them in a holistic way, yoga-chi which is a new thought pattern very similar to Meditation .

Yoga guru Suneel Singh has been leading guru and health revolution in India for over three decades. Conducted yoga workshops for 5 star hotels, International schools, Modeling agencies, P.S.P.B, GAIL , UNICEF, prominent American NGOs and also given yoga tips to top most politicians, bureaucrats and film actors of Mumbai.

He has written 11 books, "Yog Se Aryoga Tak" in Hindi, which has also been translated in 12 other regional languages (Published by Diamond Books)2nd Book Ank, Rog and Yog , 3rd E book Gentle Yoga@ 60 Years,4th E book Ank Rog or Yog , 5th co- author Times wellness guide 6th Spine Sutra pocket book and 7th Diabetes Management Sutra ,8th book Pranayama Sutra' , 9th book Gentle Yoga @60 Years ,10th Book Stri Yog Sutra and 11th book "Yog Awam Prakratik Upchar " as Co- author

He has been actively popularizing his concepts through TV programmed.
He has done more than 3050 (Three Thousand fifty) yoga episodes on leading TV channels in Hindi, English, Punjabi and Bhojpuri with Prominent channels like Aajtak, Star News, Zee News, Headlines Today, Times now , News 24, IBN-7, Live India, , Sahara Samay, India News, Pragya channel, Total TV, S1 T.V. , PTC Punjabi, Jan sandesh, Mahuwa (Bhojpuri), La7 (Italian National Network) India TV. C.N.E.B Channel. Hindiu khabar , Lok sabha T.V. , Rajyasabha T.V., Travel Trendz and D.D. National etc.

As a freelancer he has been writing regular articles & columns for prominent newspapers like Times of India, Hindustan Times, Indian Express, The Financial Express, Delhi Mid-Day, Amar Ujala, Dainik jagran, Rashtriya Sahara, Hindutan Hindi , Hindustan (HT Media Group), Punjab Kesari etc. And magazines Asia Spa, Spa veda, Food &Good living, Body&beyond Swagat Kadmbini, Good health , Vanita, outlook, Women on Top, Grehlaxmi, Gatirang, Bindiya, Meri Sangani & Vichar Saransh, (4th Dimension Media Group) and The Eternal Solutions etc.

He is graduate in arts from Luck now University .Suneel Singh has inherited yoga from his grandfather, who belongs to Varanasi (U.P) . Later he has done Yoga teacher training course from Mantalai (J&K) with Gold Medal. He is disciple of late Guru Swami Dhirender bhramchari ji .

He has done 2nd degree in Jin Shin Do Reiki (from Inner Culture Organization, New Delhi (Usui system of natural healing).

Diploma in Acupressure Therapy (D.A.T ACU) from Indian Academy of Acupressure Science Rajasthan.

He has played central zone in cricket and also was captain sports college cricket team. Yoga guru Suneel singh has traveled and practiced yoga all over India at Ashrams and abroad. He teaches and practices Yogasana, Pranayama, Bandha, Mantra, Mudra, meditation, cleansing Kriyas and Japanese Tao Yoga .He is widely traveled all over the world .

Achievements
1 He has been felicitated by PHD Chamber of commerce &Industry and Premia Projects for his contribution in the field of Yoga, Health and Wellness.

2 World Yoga Foundation of Kolkata has recognized him as adviser.

3 He is also member Yoga Steering committee the scheme mentored by Ayush & owned by QCI ( Govt.of India ).

4 He was also a part of Dubai Yoga festival along with Shilpa shetty . More than 9000 Yoga practitioner were the part of this mega event in Dubai.


5 He is adviser to INTERNATIONAL COUNCIL FOR SCHOOL CRICKET. (I C.S.C.)

6 The Bharat Petroleum Corporation Ltd. has launched calendar in 2008 featuring him& Indian Cricket Team Captain M.S. Dhoni.

7 He has been honored by Yog Sanskriti Perth Delhi for his contribution in the field of Yog and Wellness
.
8 He has been awarded Yoga Ratna Award by World Yoga Foundation.

9 He has been included in 100 top Ayurveda and Yoga personality in the world.
http://spiritualityhealth.com/100trailblazers.

10. He has been included in Top 6 Yoga Gurus you should know list . Link attached http://www.newsmobile.in/articles/2015/06/20/yoga-gurus-you-should-know/

11 The Indian Academy of Natural Therapeutics Luck now has elected him
for contribution in the field of Yoga.

12 Soham parmarth seva samiti has awarded him with Yog Ratan for his small contribution in the field of Yoga and Wellness.

13 He has successfully launched 4 Yoga DVD's, 'Purna Yoga ,D.V.D with Disha channel, Navel displacement cure .Recently launched Sahaj Yog DVD on Diabetes .

14 He was jury member first International Yoga Film festival Delhi

15 He has been acknowledges by GNCC for his contribution in the field of Health, environment and wellness Education.

16 He is Brand ambassador www.ayuryogyatra.com

17 He has been included in Top 23 Yogis in the world.http://www.yoga2all.com/yogis/

18 Recently he has conducted SUNRISE YOGA Workshop @ Sky Dive runway Dubai " .

19 The Global Academy has appointed him as Adviser.

20 His name has been Included in Top 20 World Famous Yoga Teacher
https://www.timesbull.com/trending/20-world-famous-yoga-teachers-information-in-hindi-29631/

He is writing regular articles for websites like www.indiatimes.com,
http://healthydunia.com/ www.jagrancityplus.com/ ,www.himtimes.com,www.delhilive.com www.speakingtree.com, www.yogavidya.com,www.talkingtimes.com, www.curejoy.com, http://www.streetayurveda.com//http://www.bigumbrella.co.in/ /www.Zliving.com and various other
web portals.

Please click links to know more.
Images links
https://www.google.co.in/search?q=yoga+guru+suneel+singh&rlz=1C1GIWA_enIN592IN592&es_sm=93&source=lnms&tbm=isch&sa=X&ei=zwkXVPOyE4KXuASklIKADQ&ved=0CAgQ_AUoAQ&biw=1366&bih=667
Video links.
ps://www.google.co.in/search?q=yoga+guru+suneel+singh&rlz=1C1GIWA_enIN592IN592&es_sm=93&biw=1366&bih=667&tbm=vid&source=lnms&sa=X&ei=2wkXVKSmCMSSuATM14KoDg&ved=0CAoQ_AUoAw&dpr=1
https://www.youtube.com/watch?v=i1zoqSgHjIk This prog on mahuwa channel has completed more than 1400 episodes.
https://www.youtube.com/watch?v=iHa7MZTUuKc This prog on travel trendz has completed more than 1000 episodes.
https://www.youtube.com/watch?v=csKq4fK-cRk This prog on D.D. national has completed more than 800 episodes.

Family : He is married and having one son . His wife is house wife .

Languages known : Hindi , English , Bhojpuri , Punjabi and Japanese.

Birth date: November 9th, in Luck now (India)

Work: He is Yoga guru, Model, columnist, poet, singer and a social worker.

To know more about.
Pls log on to www.yogagurusuneelsingh.com

Founder YOGA LOVERS (Regd) Trust
Founder / CEO / Owner
URBAN YOGA STUDIO

www.facebook.com/ Suneel singh